"Common Sense Server Rules"
Rules Date: 09-01-2020
Note:   These rules are subject to change depending on how the game Developers "Fun Pimps" add or remove features to the game and by how issues arise on the game server. So check them often by "Date" for any updated changes. If you feel that you will have a hard time following these rules or do not agree with any of them, PLEASE save your time and effort and find another server that better suits your needs.
Our server is a "IO-RO" server. "Invite Or Request Only" server.
Due to the unfortunate large amount of foreign and domestic hackers, cheaters and trolls, our server is password protected. The only way to access our server is by invite or to request a password.
In order to qualify for a server password, players must contact me directly via email at ( doctros@gmail.com ) with the following information in the email:
1. Your Email Address So I Can Send You A Password,
2. Your Steam Name,
3. Your Numerical Steam64 ID (it will look like this: 76561191234567890),
4. Your Discord Name,
5. The Steam Name Of Anyone That Directed You To Our Server,
6. Acknowledgment That You Have Gone To Our Website And Have Read And Agree With Our Server Rules,
7. Why You Are Interested In Joining Our Server.
You will then be contacted with a server password if you qualify.
NOTE: The information you provide will be checked. If there is any negative information on your Steam account, with EAC or any other gaming/gamer reputation systems, You will NOT qualify.
NOTE: ALL passwords must be personally given by me to the player that wants access to the server. Any player that freely gives out their password to any other player will be banned along with the players they gave the password to. No exceptions!
This is a "PVE" (Player VS Environment) server
Not
A "PVP" (Player VS Player) server!
Courtesy And Game Play
1. Racism Of Any Kind Will Not Be Tolerated. (Everyone Is Welcome In Our Server). Do Not Use Any Offensive Name For Your Character. Treat All Players With Respect.
2. Do Not Disrupt Game Play By Hacking, Arguing, Complaining, Trolling, Spamming, Advertising, Promoting Or In General "Annoying other players". Also, Do Not Discuss Religion Or Politics. This Only Leads To conflict. Bad, Rude, Toxic or Malicious Attitudes Will Not Be Tolerated!
Simple Server Rules
1. This Is A "PVE" Server Not A "PVP" Server. Be Friendly And Help Each Other Out! We are all here to survive!
2. To Keep It Fair And To Ensure That Resources And Loot Are Available To EVERYONE In Our Server,
The Locations Below May Be Claimed As Long As They Are In The Outskirt Perimeter Of Any City Or Town:
A. Un-Named Residential Homes,
B. Un-Named Log Cabins,
C. Un-Named Small Apartment Units (If More Than 4 Players Are Living Together),
D. Un-Named Farms.
You Can Building In/On To, Or Reinforce These To Live In. Or Better Yet Build Your Own Structure From Scratch. Just Make Sure That Your Build Does Not Interfere With Any Other Buildings Or POI's With Loot Spawns (Points Of Interest).
3. Please Do Not Build In Or Claim Any POI's Which Include:
Any Named Builds, Facilities, Utilities, Police/Fire Stations, Hospitals, Clinics, Offices, Sky Scrapers, Military, Radio/TV Stations, Large Apartment Buildings, Business Offices, Hotels, Banks, Retail Stores, Drug Stores, Warehouses, Storage Units, Service Centers, Gas Stations, Junk Yards, Trailer Parks, Parking Lots, Camp Grounds, Book Stores, Bars, Restaurants, Schools, Stadiums, Churches, Funeral Homes, Cemeteries, Etc… All Of These Builds Contain Loot Spawns That Are Needed Resources For All Players.
Building In ANY Of The Above Locations Will Grant You An Instant Ban From Our Server. No Exceptions!
4. If Building A Tunnel And Adding A Land Claim "Key Stone" Make Sure That It Does Not Affect Any Of The World Builds Listed Above.
5. When Creating Your Own Stand Alone Build, Do Not Build Right Next To Another Player! You Can Build Close To Other Players Just Make Sure Your Build Is Far Out Of Their Sight And View.
Note: Most Players Build Because The Like The View Around Them. Hills, Trees, Plants etc…
Respect Their Space By NOT Digging Or Mining All These Items Off Their Land Or View. It's A Big Map, There Are Plenty Of Areas To Build.
6. When Looting Take All Items Found! Trash Or Trade Items You Don't Need So New Loot/Items Can Regenerate.
7. Use Caution Not To Destroy Loot Containers Because If They Are Destroyed They Are Gone From The World Permanently.
8. DO NOT Use Any Explosives To Carelessly Destroy Builds Or Roads. Only Use Them For Mining If Needed!
9. When Mining And Digging Holes, Please Use Something To Put Around The Top Surface Rim To Keep Players From Falling In Or Worst Yet, Falling In With A Vehicle.
10. Please Do Not Destroy Cars/Vehicles That Spawn Loot/Items. Only Destroy/Scrap Cars That Do Not Spawn Loot/Items.
11. Respect EVERYONE And Be Neighborly. We Are All Here To Build, Survive, Coexist And To Have Fun!
Note:   At The Bottom Of This Page I Have Included A "Server Map" And A "Horde Night" Day Chart For Your Convenience.
Conclusion
So to keep our server fun and friendly, be neighborly and helpful to other players and follow these simple "Common Sense Server Rules". Again, If you feel that you will have a hard time following these rules or do not agree with any of them, PLEASE save your time and effort and find another server that better suits your needs.
These rules will be enforced for everyone playing on this server. Owner, Admins and all Players. No deviations or exceptions will be allowed.
Again, We are here to Have Fun! Be Respectful to ALL players and enjoy our -=[U.S.P]=- 7D2D ~ PVE ~ Awesome ~  Server!
Thank You!
-={U.S.P}=- Doctros…
-={U.S.P}=- 7DTD Server Map Reference
(Click Map To Enlarge Or Print)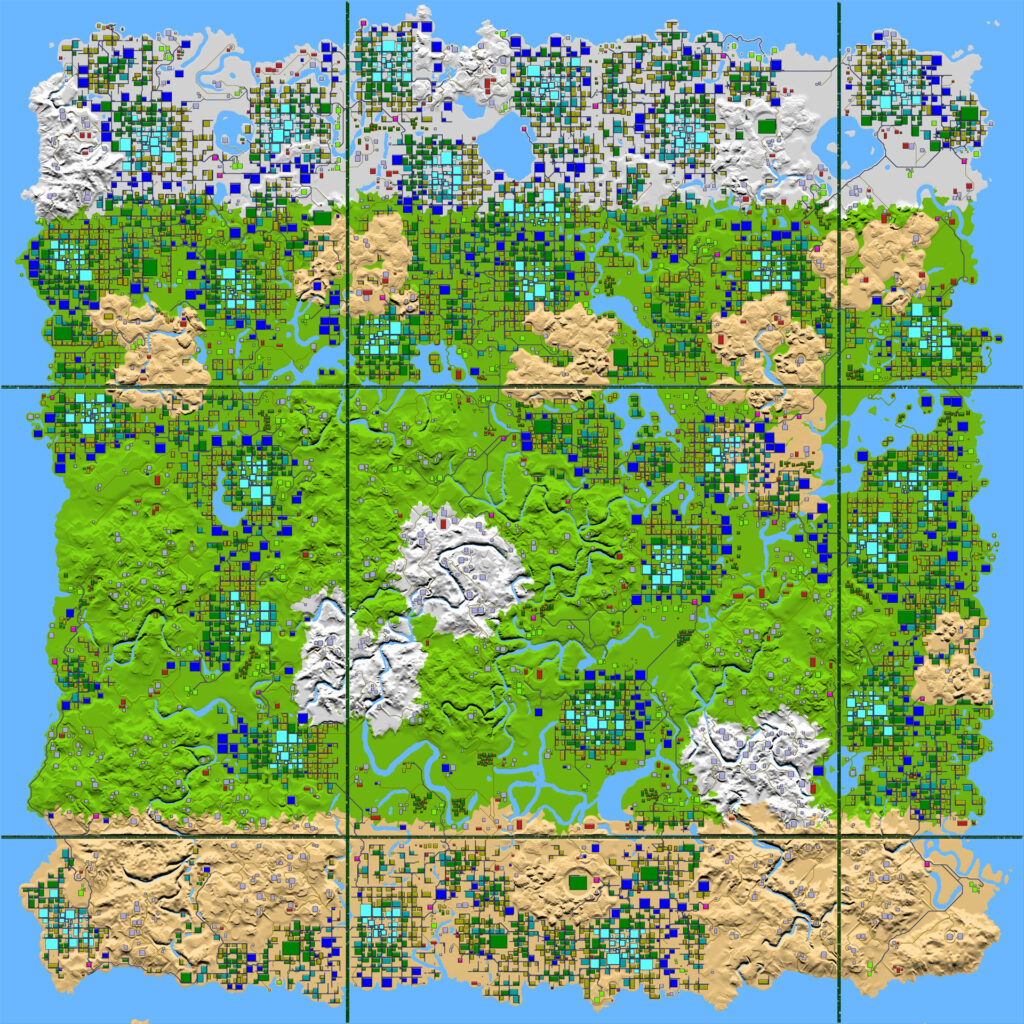 -={U.S.P}=- 7DTD "Horde Night" Day Chart & "Map"

(Click Image To Enlarge Or Print)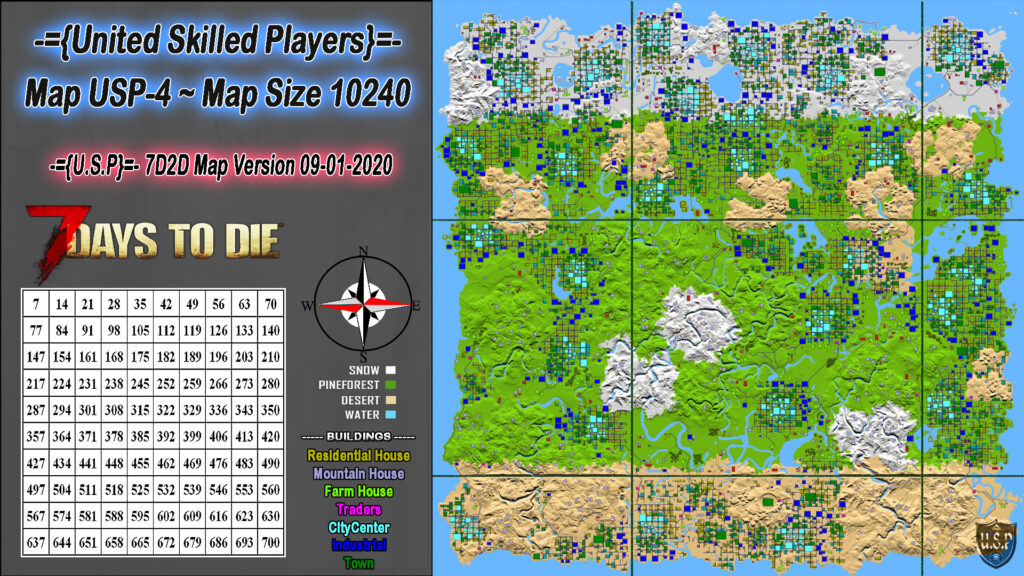 -={U.S.P}=- 7DTD "Horde Night" Day Chart
(Click Image To Enlarge Or Print)